MALAY WOMEN'S PERSPECTIVES AS PRIMARY CAREGIVER TO OLDER ADULTS WITH MENTAL HEALTH PROBLEMS: A QUALITATIVE STUDY
Keywords:
Female caregiver, caregiving, mental illness, Malay women, ageing
Abstract
Most family caregivers are usually women. They play an essential and significant role concerning family caregiving despite remaining unrecognised in the community. As the primary caregiver of older adults with mental illness, women encountered multiple roles. The challenge is severe among women with full-time employment and those who were self-employed when they had to balance and
fulfil competing expectations of the older person, other family members, and the demands of their employment. A qualitative research design was utilized to gather data from 12 participants in Kelantan, Malaysia using in-depth semi-structured interviews, audiotapes, and thematic analysis to analyse caregivers' caregiving experiences to an older adult with mental illness. The findings revealed that despite the challenging situations and consequences, women caregivers were still determined to continue their caregiving role. This input informs the need for policymakers/government and service systems in health to work closely to support women caregivers in providing care for older adults with mental health problems.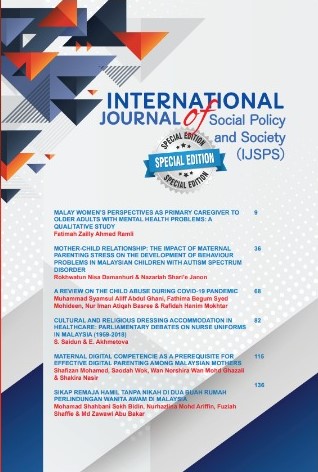 Downloads