SIKAP REMAJA HAMIL TANPA NIKAH DI DUA BUAH RUMAH PERLINDUNGAN WANITA AWAM DI MALAYSIA
Keywords:
Sikap, Remaja, Hamil Tanpa Nikah, Pengalaman, Rumah Perlindungan Wanita
Abstract
Out-of-wedlock pregnancy among Malaysian adolescents is not a new issue. Typically, they are placed in a protection home as a rehabilitation process. Therefore, attitude formation among them is necessary to ensure they can face their pregnancy rationally. This qualitative study was conducted to identify the attitudes of out-of-wedlock pregnant adolescents in the protection home. A semi-structured interview was conducted with eight out-of-wedlock pregnant adolescents in two public protection homes. The interviews were recorded, the collected data was transcribed, and then analysed using the thematic procedure. The findings identified four themes concerning the attitudes of pregnant-out-of-wedlock adolescents: self-regret, intention to change, independence, and sense of responsibility. In conclusion, the participants showed a good attitude while following the rehabilitation programme in the protection home. This study recommends that the module used by the protection home institution is standardized for all public and private protection homes. In addition, all protection home is hoped to be able to care for and increase their service quality and enhance their existing rehabilitation model from time to time.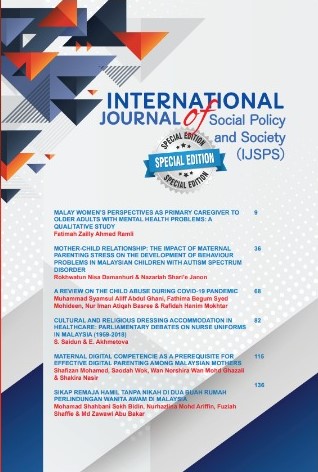 Downloads